I've been reading alot of books about Africa lately, I think on last count about 12 in the past 3 months or so. I know not everyone has my great fascination with the Dark Continent but here are a few reads I highly reccomend for those with an interest in Africa or in a good read.
First, Dervla Murphy's "In Ethiopia With a Mule". Imagine a single woman heading off into the wild Ethiopian highlands by herself, sans map... in the 1960's. Then imagine bandits, leopards, and mules falling off cliffs. That's this books. She's blunt and fearless and treks more than a 1000 miles, living with the fleas, the Ethiopians and the hyenas. Super fascinating book by a famous travel writer.
Ok, so the 750 pages might seem a little intimidating at first but they fly by. "The Fate of Africa"
is African history since independence that focuses on many of the big personalities, weaving all the connections and bringing the headlines to life. If you want to know recent African history, this is the book. His writing style gives the history life and you often forget you're reading history.
If there was one man I might want to emulate on the international aid scene it would be Stephen Lewis. He's a tireless advocate for human right, women's right and African rights. And he's Canadian. He was most recently the UN envoy for HIV/AIDS in Africa and has tons of first hand experience. He knows AIDS in Africa. In "Race Against Time" he speaks out against the inaction and failings of the UN, the IMF and the Bank. He's honest and yet hopeful that these organizations can rectify their failures the fulfill their potential.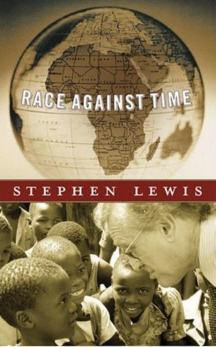 A couple more: Alexandra Fuller's "Don't Let's Go to the Dogs Tonight". One girl growing up in the unique world of Rhodesia.
Stephanie Nolen's "28: Stories of AIDS in Africa". A Canadian journalist gives stories and faces to the many crises that AIDS is causing in Africa.
Romeo Dallaire's "Shake Hands With the Devil". Ok, this one's been out there a while but I am constantly amazed at what he's gone through and his tireless advocacy for peace in Africa. And he's Canadian.
So, if that light summer reading just isn't your thing (I know it's not mine), grab one of these books and become edumacated. Ya HEARD.